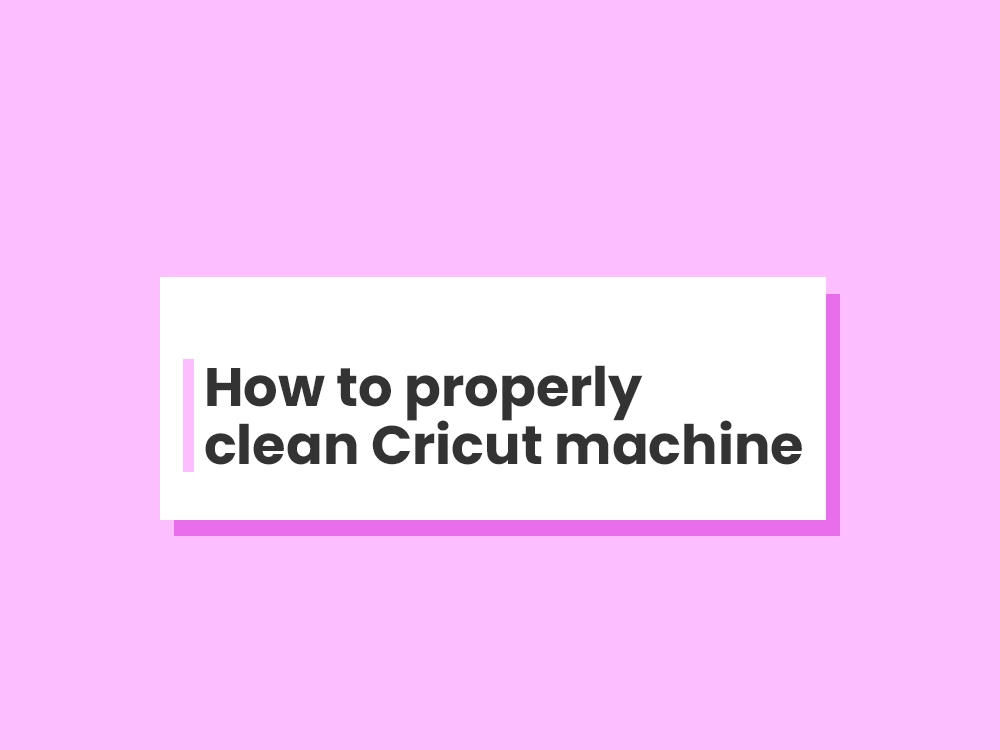 How to properly clean Cricut machine at home
Cricut and Silhouette machines are common in the crafters' community. People love the cutting machines and use them for almost all of their art designs and stuff regularly. From scrapbooks to vinyl decals, these cutting machines hold lots of applications with robust features that help every day.
With the regular uses, it catches lots of small particles of material we use between parts and it may start legging after some period of time. Today lets learn how to clean the machines at home without calling the specialist.
In this blog post, we will learn how to clean Cricut explore machines from the outer and inner sides. Cricut mat is also one of the important and frequently used parts in the cutting machine and it requires regular cleaning, you can learn how to clean the Cricut mat here.
How to clean a Cricut machine by yourself
Before we start with the process please note some important points.
Only use gentle cleaners like baby wipes that are alcohol-free and avoid any chemicals like acetone or other regular cleaning material.
You will find some metal rods with grease, do not wipe off it as it is lubricants and added to remove frictions.
keep the machine off and unplugged while cleaning for your safety.
Materials needed:
You will need some canned air, genital cleaner, some small brushes, a microfiber cloth(a small piece is enough), and some baby wipes. You can just order a cleaning kit online or you will find most of these things in your home only.
Let's start with the Inside part:
First of all, turn off the machine and unplug it from the power supply.
Now, open the machine and remove the blade and blade attachment from the clamp. you can do this easily by moving the blade housing and metal rod to the left.
Use pressurized air to blow off the dust and particles from each tray and other parts. Now, you will leave with some visible dirty area on some parts, wipe off it with some baby wipes. Make sure you do not wipe the lubricants.
Then, Move all the rollers on the metal rods to any one side so you can go between to rods with a small brush. You can clean areas between metal bars but please be careful and do not touch the chain it may miss-place if moved.
Do not add more grease or another lubricant to any rod. If you think rods are stocking, you can call the Cricut support team and let them analyze the situation.
How to clean the outside of Cricut machine:
Cricut machine's outer parts are made of plastic mostly. Use a gentle cleaner without acid or alcohol and avoid using too much chemical on and around the buttons. You can simply spray cleaner liquid on a paper towel and rub it off on any scuff marks. Then just use baby wipes and go over the whole machine.
If you used too much liquid, just use a paper towel to dry the excess off. Cover all the back gape and bottom from the inside with your round brush and then spray some canned air to make sure everything is dry and dust-free.
By following these instructions you can clean your Cricut machine every 2-3 months to keep it smooth as new. Please do not try to remove any parts.
Leave a reply