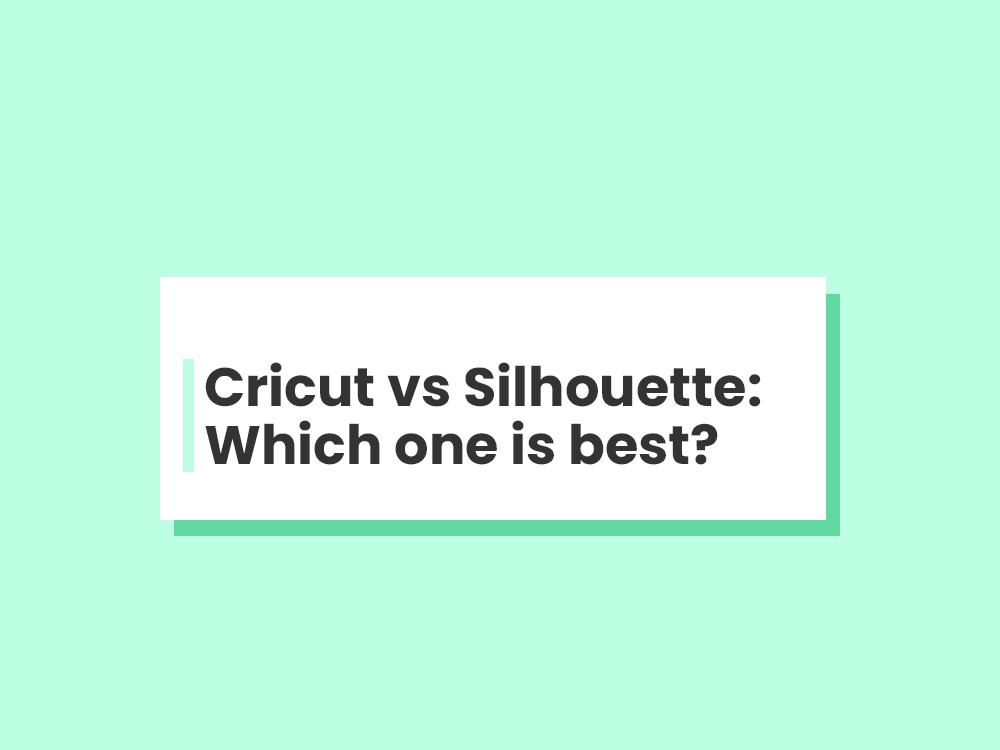 Cricut vs Silhouette: Which one is best? comparison.
If you are into craft and handmade things and searching for a cutting tool that helps with your craft project, this post will solve some of the questions you might having in your mind while searching for the best cutting machine.
If you prefer to Facebook groups related to craft and some youtube videos or blogs related to it, you most probably heard of two companies - Cricut and silhouette. Both companies provide different types of cutting machines with different features and both of the series of machines are very popular with a huge user base. Some people will say Cricut machines are better and some will say silhouette. So let's see some of the major aspects comparing both the machines and find out which one is more suitable with your work requirements.
There are multiple factors we will get into that will give a clear idea of which thing is better with which cutting machine. we will see software, overall machine design, and tools, supporting material, Ease of use and price range.
1. Software
Generally, these cutting machines are like your normal printers. you just plug it to your computer and give commands from your software installed on your computer and the machine will cut the material accordingly or do certain actions based on the input.
Cricut comes with its native software - Cricut design space. Silhouette machine comes with Silhouette studio. You get this software for free when you buy any machine and you can install them very easily like any other software on your windows or mac computer. Yes, both the software is supported on Mac and Windows computers so nothing to worry about.
One very important thing with the software is which type of files they accept. Most of the cutting machines support SVG files and Cricut and silhouette both accept png and jpeg as well.
As it works mainly on digital files like cutting files and fonts, both the company has their own marketplace where you can pay for the files you want individually. Cricut recently released the Cricut access membership where you need to pay $10 per month to get access to thousands of premium cutting files. Both the machine software let you load designs that you might create by yourself using any third-party software or purchased from other places and you can use them very easily.
PS. you can also download the latest updated SVG files from our website svgcrown.com. we upload new SVG files regularly and all of them are free.
2. Exterior machine design
You can assume both the sizes are almost the same similar to any normal printer so you can place it anywhere with very little space. Cricut machines do come with some extra storage things where you can keep your cutters and markers. Silhouette machine does not have any such storage. But that's not a big difference.
3. Materials
Cricut and Silhouette cutting machines support a long list of materials that can be used for cutting. Please note, Cricut offers 5 different models and some of them come with limited supported material. the bigger ones can cut almost all craft materials including fabric, leather and wood But other light models might lake some in the list. But, generally, vinyl paper, sticker paper and card stocks are supported by all the machines. Please check the material list from the official website if you have a very specific set of materials to use.
Cricut also recently released smart materials which let you make very long cuts without using the mat. so you will be able to create big piece of art with the new upgraded machines that come with the support of smart material. Learn more about the smart material here.
4. Machine Pricing and other costs
Silhouette machines are a little costly compared to Cricut but you can get a deal at some good sales like black Friday and other Christmas time. Cricut machines come with different prices, they have 5 machines in this series and based on the features the cost of the machine varies. You can visit their official website for the updated price as they recently released 2 new cutting machines that are successors of past machines with fast motor and support of smart materials.
So that's it! I hope I covered all the points here in the comparison and you will be able to get some more clear idea about both the machines. please comment below if you have any other questions in mind.
Leave a reply